Today, HARD Events has announced the highly-anticipated lineup for the return of HARD Summer Music Festival to the City of Angels for the first time in ten years. Taking place in Downtown Los Angeles from August 5-6, the milestone fifteenth edition of HARD Summer will utilize a brand new venue combination with various stages spread out across the campuses of the historic Los Angeles Memorial Coliseum, Exposition Park, and BMO Stadium.
The 2023 lineup stays true to the multi-genre ethos and dedication to spotlighting emerging scenes that continue to make HARD Summer one of the most exciting festivals in the country. Fans can expect triumphant returns from those whose massive trajectories have defined HARD's bleeding-edge curation, coupled with leading hip-hop headliners, beacons of the global underground, and scene risers du jour.
Longtime HARD fans know that the family of artists that developed around the brand in its early days have gone on to dominate the worldwide dance music conversation. To celebrate its fifteen year anniversary, the festival welcomes these titans back to the stage with a curational twist true to its creative essence. Skrillex returns to the fold with a special b2b set with production genius Four Tet following their Madison Square Garden sell-out. HARD favorite Kaskade has tapped John Summit for a multi-generational tag team of a lifetime. Diplo will continue his exploration of more esoteric strains of house set forth by his Higher Ground imprint alongside the ABRACADABRA icon BLOND:ISH.
The super-reunion of HARD alumni continues with the inimitable Boys Noize, LA's own outrageous Dillon Francis, and the chart-topping tones of Gorgon City.
Hip-hop and rap past and present will once again take center stage at HARD with Atlanta's own Ludacris and NYC hero Fat Joe, along with psychedelic rap superstar Kid Cudi and the return of 21 Savage after his triumphant 2022 HARD debut. Additional live highlights include the eccentric pop act Oliver Tree and the melodic sounds of Two Feet.
Check out the official trailer and full lineup below!
Tickets On Sale Friday, March 10th at 10am PT
https://www.hardsummer.com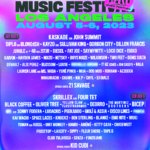 Photo via Julian Bajsel for Insomniac Events
This article was first published on Your EDM. Source: HARD Summer announces Skrillex b2b Four Tet, Kaskade b2b John Summit, Ludacris, Kid Cudi, & more
source https://www.youredm.com/2023/03/07/hard-summer-announces-skrillex-b2b-four-tet-kaskade-b2b-john-summit-ludacris-kid-cudi-more/