Photo Credit all images: Annie Forrest
If you've ever lived in NYC in the past few years, there's a chance you may have been familiar with the NYT critically acclaimed 'Secret Loft' series, an underground party that began in a refurbished Brooklyn auto garage. Spearheaded by longtime friends Alex Neuhausen and Lilly Wolfson, they build this event series to be regarded as something iconic within the Big Apple.
Now, Alex & Lilly are embarking on a new journey, pouring three years of planning, fundraising and hard work into SILO: an immersive, carbon neutral, multi-genre music and event space built in a converted hangar in East Williamsburg, opening February 10, 2023.
They've also announced a string of highly anticipated shows to kick things off, including the Nervous Records birthday party with Josh Wink & more on 2/24. Then, on 2/25, Eli Escobar will take over the decks for a special all nighter that is a can't miss!
Taking a peek at some of the pictures show's just how cool of a space this is. Though a music venue at its core, SILO is more than just a club – it's a dream in a tunnel, a place for people to experience a temporary suspension of reality. It's engineered to draw your eye upward, with a ceiling that feels more like sky than an interior nightclub wall. Lilly shares, "We hired our friend and visual artist Yoshi to create a huge floor-to-ceiling wall mural. It took him months, he drew it by hand, then printed in high-res, then wheat-pasted the whole thing to our wall and shellacked it with gloss. Yoshi has interesting ideas, he has conviction and takes risks. I hope that people who come here sense that they're in a place where creative risk-taking is possible."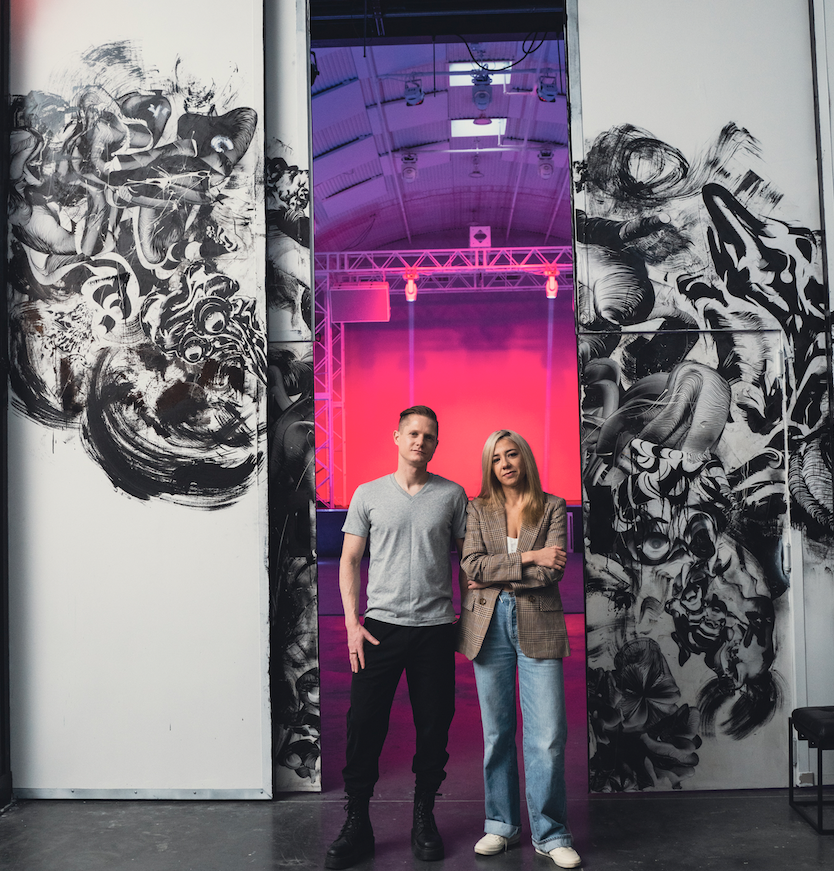 SILO also offers quite the drink menu. Their mixologist Daniel shares, "our opening season cocktail menu features clever and delicious twists on popular classics and there will be themed cocktails paired with various events." For example, their upcoming party CIRCE features hypnotic deep house tracks and mythical Greek vibes, and will be paired with the "Immortal Potion", an entrancing fizzy cocktail – a twist on a spicy margarita topped with strawberries and champagne.
No detail has been spared in the creation of SILO, with the founders giving the utmost care to the caliber of the artists, the physical design of the space, and sound quality. The club strives to promote gender equality and features community programming to make SILO a welcoming addition to its neighborhood. Alex adds "we want to be a home for a scene. We want to be the spot that 20 years from now, people say 'I was there and saw so and so spin their first set in the front room of SILO."
SILO is sure to supply your new year with plenty of incredible shows and timeless memories. Dates and tickets are included below and check out the official SILO playlist while you're at it!
2/10: STUNTSZ Presents: Mike Servito, Kia, + Special Guest – Tickets on sale
Here
2/11: CIRCE: Cassy, Tara Brooks – Tickets on sale
Here
2/18: Francois K, Toribio – Tickets on sale
Here
2/24: Nervous Records Birthday Party: Josh Wink, Sasha Carassi – Tickets on sale
Here
2/25: Eli Escobar All Night – Tickets on sale
Here
3/3: TNL VZN: Hiroko Yamamura, Justin Cudmore, Wtchcrft – Tickets on sale
Here
3/10 Bespoke Musik: Kollektiv Turmstrasse
This article was first published on Your EDM. Source: Alex Neuhausen and Lilly Wolfson Announce SILO: New Intimate & Immersive Nightclub In Brooklyn Opening Feb 2023
source https://www.youredm.com/2022/12/15/alex-neuhausen-and-lilly-wolfson-announce-silo-new-intimate-immersive-nightclub-in-brooklyn-opening-feb-2023/