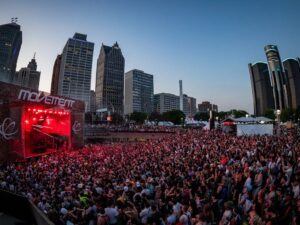 RAM and Levela resurrect the classic track from the 60s to prove cool never goes out of style.
The 1966 song "Bang Bang (My Baby Shot Me Down) written by Sonny Bono and sung by Cher, then covered by Nancy Sinatra (also in '66), is so well-recognized in modern music lore that it's safe to say it's an institution. Aside from the most recognizable version by Sinatra, the song has been covered or remixed by so many musicians over the years that they're impossible to list and take up a full five pages on WhoSampled.com. Among the most notable are Cher herself (with Jon Bon Jovi and Michael Bolton in 1987), Lady Gaga, The Raconteurs, Vanilla Fudge and Nancy's only slightly more famous husband, Frank Sinatra. Now Levela and vocalist LeMeduza have joined the illustrious ranks of those who have remade this legendary track, and the long-overdue D&B version of "Bang Bang" is set to drop this Friday, June 28th.
The drum & bass rework of "Bang Bang," as one would expect, is easily the most different in both style and substance from the original as it can get. With the Sonny and Cher version being largely folk-based and the Nancy Sinatra version being what we'd now call junkyard country, there's not much in D&B that would match either of those genres. That said, Levela has taken a significant sample from Bono's original and woven it through the track. It's the haunting guitar riff created nearly 60 years ago that has made this track such an institution and the way Levela uses it not just as a sample but as a guide for the key and ambient tone of the track makes it just as visceral and ominous as the original. Amidst all the amens, switchbacks and heavy, sine wavey sub bass synths, the vibe of the original song isn't lost and it's almost got a post punk flavor to it.
Speaking of being true to the original, LaMeduza's vocals are what really tie this track together and capture the mood of this legendary song so well. Not only does she manage to capture the tone and timbre of Nancy Sinatra's popular version, she may have actually surpassed it. We're not just talking about quality of equipment or production here, either: LaMeduza's vocal skill and attention to the drama of the track has an authenticity that really is unmatched. Levela must have known it was special as well, as he gives ample space in the track for the full vocals, doing very few cuts or fragment mixing of the vox unless it was to echo it through the vox-less parts.
The partnership between Levela and LaMeduza on "Bang Bang" makes for a superb collab on top of a surprisingly danceable resurrection of this more than half century-old tune. It's likely neither Sonny and Cher nor Nancy Sinatra (nor really anyone, for that matter) could have ever pictured ravers doing finger guns to this particular "banger," but now that you think about it, it's actually perfect for a D&B tune. It just needed a master producer like Levela and a pitch-perfect vocalist like LaMeduza to do it justice. Cool is cool no matter that the time period of age, and "Bang Bang 2023" proves it.
"Bang Bang" 2023 drops Friday, June 30 on RAM Recordings. Click here to pre-order or pre-save.
This article was first published on Your EDM. Source: Your EDM Premiere: Hear Levela's Hotly Anticipated Upcoming Banger, 'Bang Bang 2023' featuring LaMeduza [RAM]
source https://www.youredm.com/2023/06/28/your-edm-premiere-hear-levelas-hotly-anticipated-upcoming-banger-bang-bang-2023-featuring-lameduza-ram/